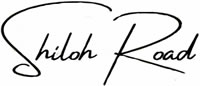 Shiloh Road (formerly The Gospel Four of Arlington) expresses our gratitude for the honor of traveling and singing about God's unconditional love, amazing Grace and cleansing Blood.
After the rapid change the world has recently experienced, the glorious message of hope and redemption through Jesus Christ is more important than ever before. We believe that bringing the Gospel to people through four-part harmony is our calling, and we dedicate ourselves to this mission.
Long-time members Bryan Beale on baritone and Glenn Morrow on bass welcome Randy Brooks as lead singer and Curtis "Deedle" Muncrief on tenor to Shiloh Road. Randy and Deedle both hail from Carlsbad, New Mexico, and have years of ministry experience in the music industry.
New vocals, new harmonies, new songs and a new name! Shiloh Road looks forward to presenting the message of faith, hope and God's Love to your church, organization or event.