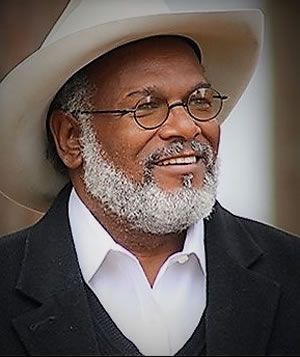 The fertile farmlands of Tallulah, Louisiana, provide Paul E. Puckett ("Ricky Paul") with a lifelong affection for nature's beauty, and the love of God. Between the early days of singing in the fields, at school events, and at Shady Grove Missionary Baptist Church, his anointing set his path for Spiritual Growth and a personal mission to spread God's word. Today, God's anointing has gifted him not only as a Vocal Recording Artist, but also Songwriter, Playwright, Poet, Executive Producer, Actor and Philanthropist. Currently, Ricky Paul is a Christian TV host and pastors The House of Refuge Church of God in Christ in Dawson, TX. His literary contribution to Christian ministry, titled Collection of Songs Inspired by God, was released December 2020. His literary work Tales by Uncle Rick is slated for release in the Fall of 2021.
Celebrating his tenth year as a liver transplant and cancer survivor, Ricky Paul loves to give God the praise for his journey and deliverance. His life is a wondrous testimony to struggle, pain, devotion, and love. According to Ricky, "In my walk with God, my desire is to give Him all the Praise and Glory. It is not that I can write or sing so good, but it is the anointing that God gives. He writes the songs. He tunes the instruments of my voice. He blesses me with the platforms to worship and to give Him praise. I'm just a Country Boy, full of Praise for The Most High!" Ricky is a United States Army Veteran and a dedicated Soldier for Christ.
Since 2003, he has recorded five projects, including My Life, Broken Pieces, King of Kings, Just a Country Boy and Diana's Song. Coming in the Fall of 2021, he will release his sixth project, Around God's Throne. His video projects include Broken Pieces, Living My Life for Christ, You're My Friend, Mamma Knew How to Pray, Just a Country Boy and Miss My Daddy.
As a Supporting Actor, he appeared in the Texas stage play Lost Highway about the life and times of Hank Williams, Sr. He wrote, produced, and starred in his own original play, How Many Times Have You Turned Me Away (2004-2005).
Currently, he produces and hosts the Christian network program Around God's Throne on All Nations TV and performed at the Gospel Music Workshop Association in Houston, Texas and Atlanta, Georgia, and on the 2019-2020 season of the Gloria Cook's Gospel Show from Bryan, Texas. He also performs in many churches around the country.
Ricky is honored to have received many awards and honors in 2021:

Texas Gospel Music Excellence Awards - Houston, Texas
TX Male Soloist of the Year - Finalist
Gospel Choice Music Awards - East Point, Georgia

Video Project of the Year - Finalist
Male Artist/Vocalist of the Year - Nominee
Song of the Year - Nominee
Video Project of The Year - Nominee
S & M Indie Awards - Rocky Mount, North Carolina
Contemporary Male Vocalist of the Year - Nominee
Contemporary Record of the Year ("Living My Life for Christ") - Nominee
Southern Artist of the Year - Nominee
Contemporary Record of the Year - Nominee
Prayze Factor Awards - Atlanta, Georgia
Rhythm & Praise - Nominee
Praise and Worship - Nominee
Contemporary Christian - Nominee
"COVID" Marketing (2021 "ZOOM" interviews)
Upchurch's Music Radio - Katy, Texas (February 2021)
Gospel Choice Music Awards - East Point, Georgia (March 2021)
New Day Connection Galaxy Radio - Houston, Texas (March 2021)